Marine Exhaust Systems of Alabama Diesel Generator Recommendations
This is a no frills page. Just information and links of companies I've come to trust and equipment I have found worth mentioning.
Their kits are both affordable as well as dependable.
Please let them know that Mark at Marine Exhaust sent you their way.
Also check out our links page for additional companies and products.


Daewoo 60kw MTS60DM- MTS Power Products-ask for Willie 1-305-634-1511
Cummins Natural Gas 855
Naturally Aspirated Engine 200Hp @ 1800rpm
12:1 Pistons, 24 Volt Alternator - 24 Volt Gauge, 24 Volt Starter,
24 Volt Woodward Electronic Governor, Altronic V Ignition,
425 Impco Carburetor, Murphy Safety Gauges,
Murphy Oil Level Regulator, Water Filter, Muffler,
Skid Frame - Generator end bolts directly on.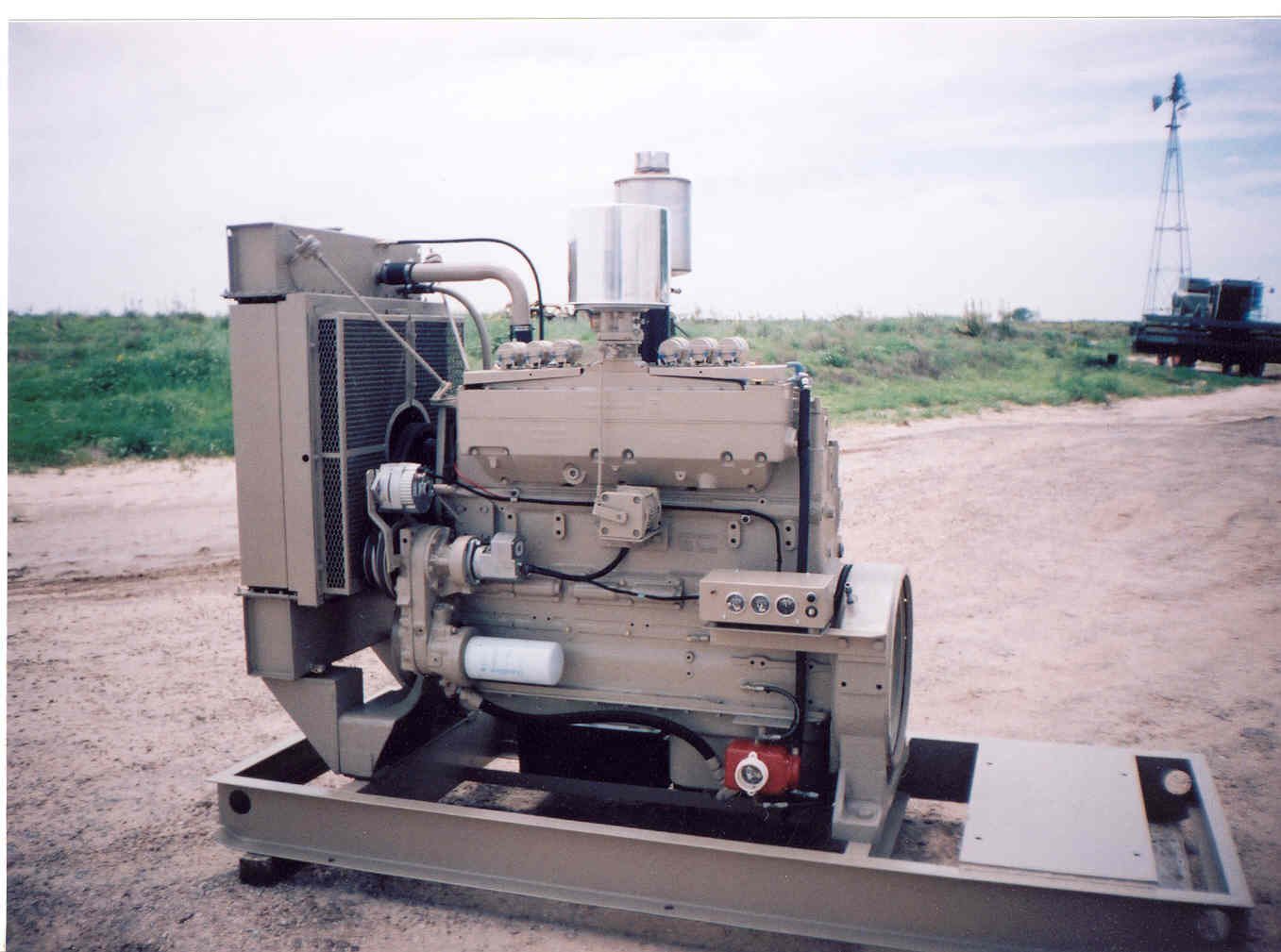 22 of these units as shown or custom built per request with or without generator end voltage requirements. Call for more information and for prices.
For More Information Call Jeff at 1-620-544-2487
G 855 NA Natural Gas Cummins 200 HP
12:1 Pistons, 24 Volt Starter, Murphy Safety Gauges,
Altronic V Ignition, Spin-On Oil Filter, Water Filter,
Muffler, 425 Impco Carburetor, Drive Plate, Throttle Cable



Unit is ready for irrigation application will build unit to customer specifications for horsepower demand with 12:1 - 10:1 - 8:5:1 Piston
Ratios to run on natural gas or propane, power take-off or other equipment as per customer request. Call for more information and for prices.
For More Information Call Jeff at 1-620-544-2487
Super 250 Natural Gas Cummins Engine 927 220 HP @ 1800 rpm
12:1 Pistons, Altronic III Ignition, Murphy Safety Gauges,
24 Volt Starter, 200 D Impco Carburetor, Spin-On Oil Filter,
Water Filter, Drive Plate, Throttle Cable, Surge Tank,
Vortex Air Cleaner, Muffler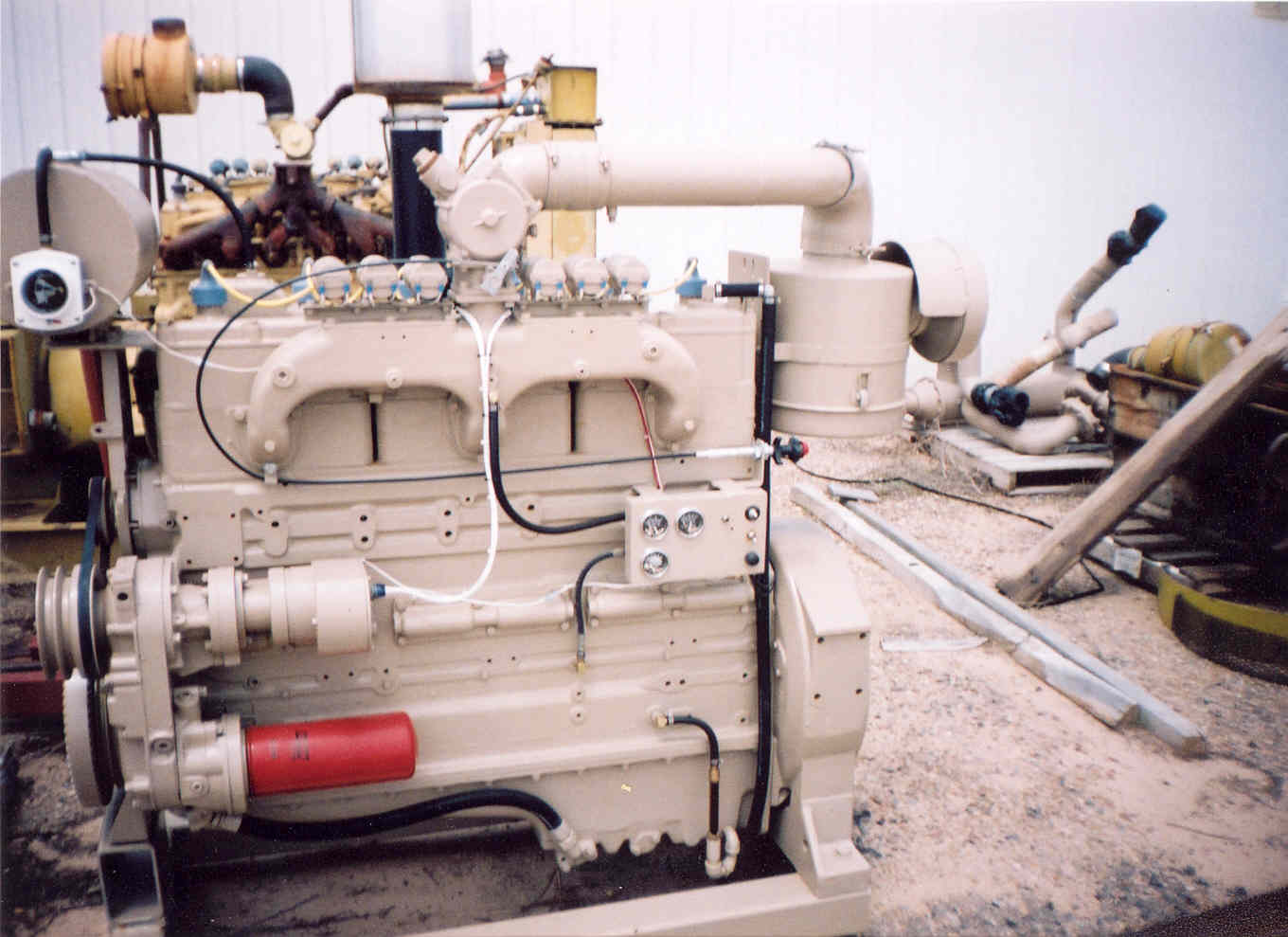 This engine used 12:1 Pistons only. It uses an 855 CID block but has a 6 1/2 inch stroke crankshaft. 90% of 855 engine parts inter-
change with this unit. Engine is ideal application when more than 200 HP but less than 300 is needed. This unit will deliver fuel saving
over a GTA 855. Call for more information and for prices.


For More Information Call Jeff at 1-620-544-2487
GTA 855 Natural Gas Cummins Engines 300 HP
10:1 Pistons, Altronic V Ignition, Murphy Safety Gauges,
200 D Impco Carburetor, turbo Boost Controller,
MWoodward Hydraulic Governor, 24 Volt Starter,
Schwitzer Low Boost-High Speed Turbo,
Fleetguard Heavy Duty Air Cleaner,
Water Filter, Spin-On Oil Filter, Surge Tank, Drive Plate



This unit is set up for irrigation application.
This unit can be used as a genset if used with heat exchanges in a building but can not be used on radiator with this Piston Ratio. Will
build customized units to put on radiator if desired. Call for more information and for prices.
For More Information Call Jeff at 1-620-544-2487
GTA 379 Caterpillar Engine 465HP @ 1200rpm
Serial # 72B351 - 23,960 hrs. since new
Serial # 72B352 - 18,660 hrs. since new
Bemac II Generator, Brushless - Dual Bearings, 350 KW - 60 Cycle,
Volts 2400, Amperes 105, Dual Fisher Gas Regulators,
Dual Electric Starters, Altronic III Ignition,
WoodWard Electric Governor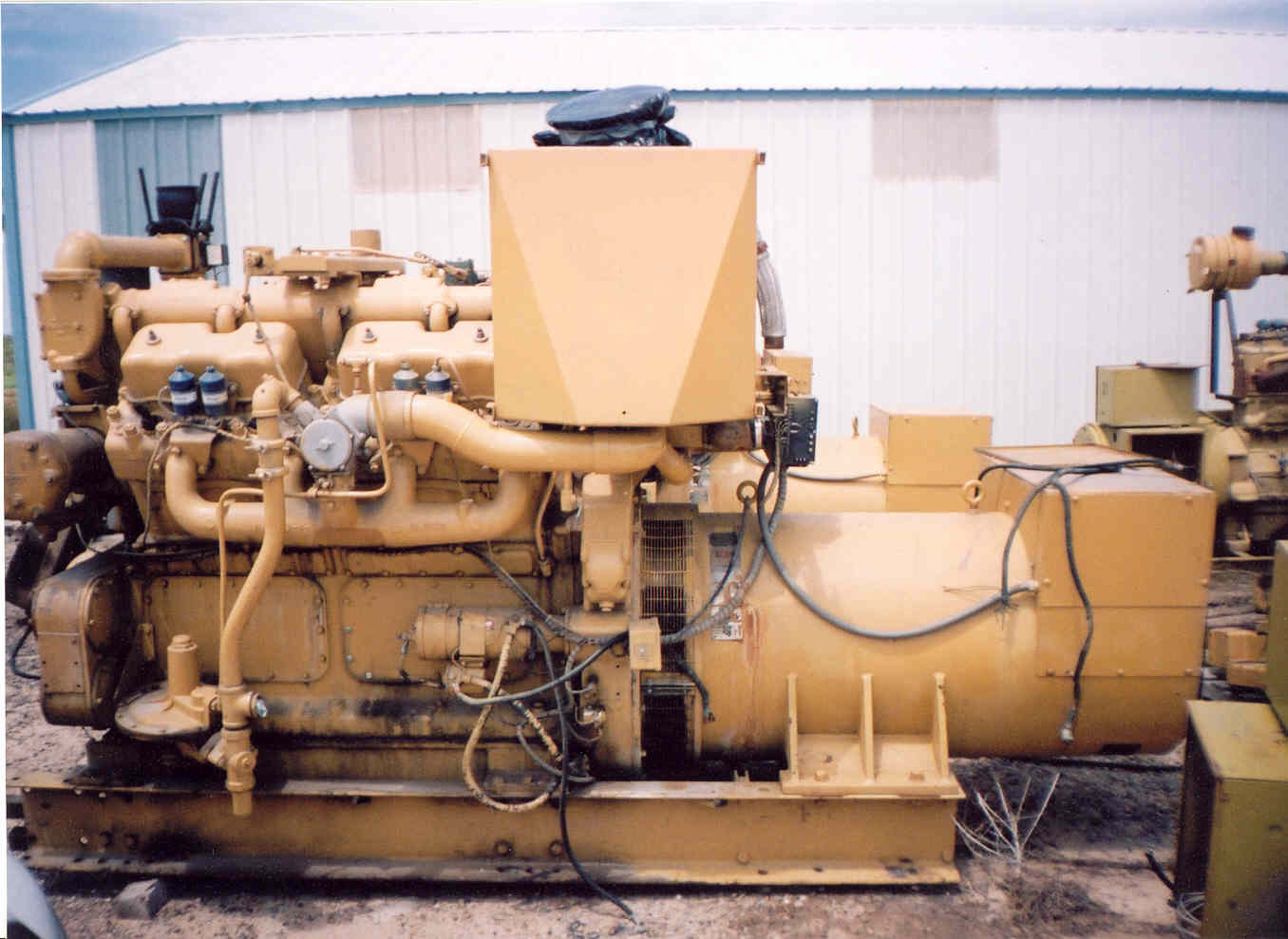 Both of these units were built by factory dealer since both have new style aftercoolers and new style connecting rods.
These engines were set up to use Digestor and Natural Gas. Previous installation was co-gen application. Caterpillar dealer performed
all necessary repairs on these units. These engines are ready to be installed! Call for more information and for prices.
For More Information Call Jeff at 1-620-544-2487
QSK - 19 Computerized Lean Burn Cummins Gas Engine 525Hp 1800 rpm Air Starter,
Skidded W/Heat Exchangers,
Low Hours On New Heads,
Excellent Shape Call for more information and for prices.
1-G379TA Engine
3-G398NA Engines
2-G342NA Engines
For More Information Call Jeff at 1-620-544-2487